Profile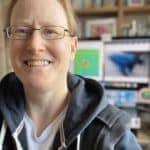 Lori-Ann Foley
Curriculum Vitae
Education

My father was in the air force so I went to school all over the place. We were in Canada for a bit, so I went to university there, studying archaeology. Then I moved back to England and studies the Romans and the Celts. I moved to Jersey and did a degree with the Open University, studying different languages to try and speak them better. Then I did my physics degree with them too, which I loved so much that I started a Phd with them as well, studying Mars.

Qualifications

I got a high school certificate because I was in Canada. Then I studied at unversities, doing archaeology, then languages then physics - because I am interested in everything!

Work History

I have had lots of different jobs - I worked for a bank, then I was a journalist on the local newspaper, now I work for a law firm. It is all interesting and fun in its own way. Once I finish studying Mars, I don't know what I'll do yet.

Current Job

I work part-time for a law firm, which is very interesting.

Employer

I work part-time for a law firm, which is very interesting.
Favourite thing to do in my job: Turn the information I get from my computer programs into pictures that everyone can understand

About Me: I have done lots of different subjects in my life. I started out studying science, then changed to archaeology (which is really fun), then did law and now have come back to science. I find everything interesting!

Read more

I live in Jersey, in the countryside. So I can see the stars at night, which is really nice, as I love to go outside and just look at the night sky. I also have a telescope so I can see planets and stars and galaxies closer, which is really amazing.

In the mornings I work for a law firm, which is more fun than you might think 🙂 The rest of the time I am studying for a PhD. I can do this from home, rather than having to be at the university, which is very nice. It works out OK because I do most of my work on the computer, as well as a lot of reading.

I do lots of reading for fun, too. My favourite subjects are science fiction (especially when the science is right) and things that make me laugh. My favourite movies and TV shows are the same.

My Work: I am looking at how climate change affects a planet but the planet is Mars!

Read more

Looking at how the climate has changed on Mars is very interesting because Mars today is very different to how it was in the past. I think my work is very interesting because I run programs on a computer to show how the weather on Mars behaves. And because the computer programme is very clever I can make it to show what might have been happening on Mars millions and billions of years ago.

Mars may have been very wet a long time ago but today it looks like a desert planet. But it also seems to have lots of ice all around. Mars has ice caps at the poles, just like Earth, and it also has ice deep in craters where it is very cold. And there may even be a lake under the ground near the south pole! So trying to find out why all the water seems to have disappeared or turned to ice is really interesting.

Here are some pictures of Mars – I think they're amazing! They are from ESA (1) and NASA (2,3).

My Typical Day: I go to an ordinary job in the mornings. But when I get home I spend the afternoons and weekends studying the climate on Mars! Lots of my time is spent on the computer setting up and running computer programs that say what the climate on Mars might be like. I spend a lot of time turning the information from the programs into graphs and pictures that are easy for everyone to understand.

Read more

The computer programs I use can be set to show what the climate is like on Mars today and also what it might have been like in the past. So first I set up the programme to show what weather on Mars might be like today. Then I compared it to what the rovers on Mars and the equipment on orbiters going around Mars see, because they can see what is actually happening on Mars. And my computer programs were very close to what the equipment actually on Mars sees.

So then I change the computer programmes to settings that we think might be what Mars was like in the past and then run them again. I look at what the computer tells me and make graphs and pictures from the information which makes it easier to see what is happening. It is very interesting to compare the information from the past and from today to see all the changes.

What I'd do with the prize money: I live on a small island with not many scientists working here. So I would bring some scientists here for a day so students could meet them and talk to them.

Read more

Jersey is a very small island and there are not a lot of jobs for different kinds of scientists here. So I would bring some scientists of different types here so they could spend a day meeting students and telling them about what they do. It would be a 'meet a scientist' fair!

My Interview

How would you describe yourself in 3 words?

Curious, studious, silly

What or who inspired you to follow your career?

Star Trek - I want to go to space and meet aliens

What was your favourite subject at school?

Sciences - all of them

What did you want to be after you left school?

A scientist or an archaeologist

Were you ever in trouble at school?

Yes

If you weren't doing this job, what would you choose instead?

Something in archaeology

Who is your favourite singer or band?

Blondie

What's your favourite food?

Pizza

What is the most fun thing you've done?

Explored an old volcanic tube

If you had 3 wishes for yourself what would they be? - be honest!

Health, happiness and knowledge

Tell us a joke.

What is an Astronaut's favorite key on the keyboard? The space bar!
---
---
---