Profile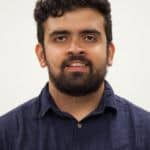 Liam Perera
Curriculum Vitae
Education

BSc. Environmental Geoscience - Edinburgh University

Qualifications

- GCSE - IB - BSc. Environmental Geoscience

Work History

I have worked in several bars as a barman and spent a couple years working as a bouncer. I've also worked in a cafe for a year after leaving Uni as i wasn't sure what to do. I knew I wanted to work in research eventually so applied for a PhD and here I am.

Current Job

PhD Student

Employer

UK Centre for Astrobiology, University of Edinburgh
Favourite thing to do in my job: Thinking of new and exciting experiments to do in the lab

About Me: Im a PhD student at the University of Edinburgh. I enjoy playing video games football, hockey and support Arsenal.

Read more

Im a PhD student at the University of Edinburgh.  My background is in Geology and my favourite subjects at school were Biology and History.

I'm originally from South London but have lived in Edinburgh for 9 years. I enjoy playing football, hockey and I support Arsenal.

My Work: I look at how life may survive on Saturn's icy moon - Enceladus. I freeze microbes down to very cold temperatures to see at what happens.

Read more

If we ever send a mission to Enceladus (pictured below), I want to know where we should go and what the chances are that we might find something exciting like evidence of life.

On Earth the crust is made of rock but on Enceladus it's all ice. Beneath this thick ice layer is an ocean of liquid water. Enceladus is constantly spitting out this ocean water into space (Image B and C). In this fine spray of water and salt – we may be able to find evidence of life.

I want to know how life may survive in the icy crust of Enceladus and how we may detect it in the plumes that erupt from the crust.

In the lab, I make up artificial oceans of Enceladus using data from the Cassini Mission. I add microbes to these brines and then I freeze them down to negative 200C! (For reference your freezer at home only goes down to negative 25C).

My Typical Day: Every day is different which is why I love my job.

Read more

Some days im in the lab thinking up new experiments, some days I do outreach, speaking to students about why Astrobiology and science in general is so exciting. Other times I get to travel the world and meet scientists from many different places.

What I'd do with the prize money: I will spend the money to run a design an alien outreach activity using a Lego DNA sequencer. This activity will be run at the National Museum of Scotland in Edinburgh for the Edinburgh Science Festival in April.

Read more

The money will go towards buying materials for an outreach activity we will run at the National Museum of Scotland in Edinburgh for the Edinburgh Science Festival in April.

In this activity you make a string of alien DNA using lego, put it in our very own Lego DNA Sequencer (video below) and then we see what your alien looks like. We want to make a massive mural of all the crazy aliens made during the festival.

Space Careers Day at Dynamic Earth – check out our @Raspberry_Pi powered Lego DNA Sequencer. @UKAstrobiology @PhysAstroEd @MonsterDNALab pic.twitter.com/nNhSy4hZEm

— Liam Perera (@LiamJPerera) February 5, 2020

My Interview

How would you describe yourself in 3 words?

Large bearded person

What or who inspired you to follow your career?

My teachers at school and university

What was your favourite subject at school?

Biology/History/Geography

What did you want to be after you left school?

I wanted to work in Film or TV making documentaries

Were you ever in trouble at school?

Yes

If you weren't doing this job, what would you choose instead?

Maybe living or working in Europe

Who is your favourite singer or band?

Sigur Ros/Muse/Frightened Rabbit

What's your favourite food?

Curry

What is the most fun thing you've done?

Spend 3 weeks camping in Southern Greenland

If you had 3 wishes for yourself what would they be? - be honest!

To get a dog, to go to Antarctica, to watch Arsenal win the Champions League.

Tell us a joke.

Whats the funniest thing the rock said to the geologist? Nothing. Because rocks don't talk and geology isn't funny.
---
---
---